POSTGRADUATE STUDIES IN PHYSICAL CHEMISTRY
DEPARTMENT OF CHEMISTRY
UNIVERSITY OF CRETE
In collaboration with the Department of Chemistry, University of Athens, Department of Chemical Engineering, University of Patras, Foundation for Research and Technology-Hellas (FORTH) and National Hellenic Research Foundation (NHRF)

APPLIED MOLECULAR SPECTROSCOPY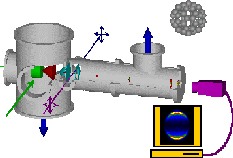 AIM
The aim of the postgraduate studies in Applied Molecular Spectroscopy is to produce scientists with a comprehensive knowledge of modern molecular spectroscopic techniques used in research laboratories of universities and research centers and find industrial, health and environmental applications. Master's Degrees and PhDs are offered after the successful attendance of a number of theoretical and laboratory courses.
A Master's Degree lasts two years and it can be accomplished either by courses or by a combination of courses and a research project. PhDs require a minimum period of two years research after completing the program for a Master's Degree.
Candidate postgraduate students may be graduates of Chemistry, Physics and Engineering Departments of Universities and Polytechnic Schools.
MORE INFORMATION
For information on admission exams and rules (in Greek) click here.
For information about the general Postgraduate program of the Chemistry Department click here.
SECRETARY OF THE PROGRAM:
Kornaraki Sophia
Dept. of Chemistry, University of Crete,
Leoforos Knossou, Heraklion 71409,
Crete, Greece
Tel. +30 810 39 3677
Fax +30 810 39 3601
E-mail: skornaraki@chemistry.uoc.gr
APPLICATION FORM (in Greek) DOWNLOAD
KANONISMOS (in Greek) KANONISMOS
The BEOWULF of AMS THE-ELEMENTS

PROGRAM (NEW)

A-SEMESTER (Program)
B-SEMESTER (Program)
C-SEMESTER
Master's Thesis
Selection of one additional course (*)
D-SEMESTER
Master's Thesis
Selection of one additional course (*)
(*) For those who will attend a Master's Degree by courses.

Additional Courses

THEORETICAL

Special Courses BIBLIOGRAPHY
Last update: Tue Dec 11 12:08:23 EET 2007
You can send e-mail to:
farantos@iesl.forth.gr